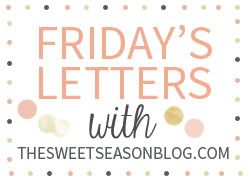 Dear Laptop
, Please stop being so sensative. I did not click the mouse, my palm skimmed the area. Stop deleting entire posts please!
Dear Internet at Home
, please stay connected for more than one minute at a time.
Dear Family
, Thank you for being awesome!
Dear Stormie
, If you made me sick, I will be slighlty upset.
Dear Snow
, Did you really need to come during my spring break?
Dear Puppy
, I'm sorry my new hair cut makes you not recognise me.